Nature Notes
To record your nature sightings on this page please send details to Sheila Clark, 9 Far Street or by email via the button on the right .
11 April 2021 Gay Hall reports 4 little egrets in the fields behind Bunny.  If you see something white, hunched and apparently immobile, it may be a little egret, surprisingly large and elegant in flight.  Look for the yellow feet.  
27 January 2021 2 ravens "billing and cooing" on top of the pylon near the bottom of Mill Lane.  A single raven has been seen in the area for a week or so, now he has found a friend.  Look for two large black birds right at the top of this or any other local pylon, and listen for the deep croak.
21 May 3 swifts arrived, with change of wind from north-east to south-west.  25 June 6 swifts circling the church spire.
17 April Margaret and Ken spotted a stoat in the field below the horse field at the end of Littlemoor Lane.
7 April Margaret and Ken spotted the local pair of great spotted woodpeckers, one either side of one of the telegraph poles in the horses' field on Moor Lane, in classic "hammering" pose.
28 March Clotted-cream-coloured clouds at sunrise this morning.  I followed the barn owl down Wysall Lane from Rancliffe Wood, keeping about 100 yds distance, till it turned in at the pineapple gates.  It dived down once, but either caught something very small or missed as it was soon up again.
24 March A songthrush has a singing-post at the bottom of Moor Lane just beyond the gates, singing well at 7am today (will be 8am next week after the clocks change).
23 March There is a flock of about 70 linnets up Moor Lane, doing mini-murmurations between the trees on the lane and the plyon-field.  They are small, streaky brown birds but the males are just coming into breeding plumage, and have lovely pink patches on the breast and head.  Also yellowhammers and chaffinches around, kestrel hunting, but no owl this morning.
March 2020: Moor Waterings trees now seem to be home to a new rookery, possibly some of the rooks displaced from the Bunny roost.  Nest building in progress, and another sign of spring is the arrival of chiffchaffs in our area - one seen on 14th by the residue of the flood at the Business Park roundabout.
March 2020: high winds make hunting difficult and too much rain drowns voles, which means owls have been struggling to find food and now is a good time to spot them hunting during the day as they try to boost their intake.
26th February For the last few weeks it has been light as I am finishing the dog walk (5 - 6pm) -and coming up the bridleways to the village.  On most nights there has been a barn owl out and about (I see below that it has been around since at least 7th January)- usually in flight but sometimes perched on the hedges there.  I have only occasionally seen owls as they are nocturnal but this one starts its evening work well before the light fails.  The pictures are sketches from the RSPB site.
10 January 2020  Delighted to see the kingfisher 2 days running at the beinning of the month.  In Fairham Brook just past the railway crossing.  It's nearly a year since I've seen it, which given that I walk round there every day is a surprise.  Not sure where it goes to fish at other times.  A nice group of Egrets also to be seen on the Brook.  At this time of year I am often walking back up the bridleway in the dark with a headtorch.  There are are a surprising number of foxes live on this edge of the village and it is rare that I can't pick out their eyes in the torch light.  Given their number it's amazing how well they stay hidden.
7 Jan 2020  A barn owl has been seen by several folk to the south of the village and over towards Keyworth.  A  juvenile buzzard hunts in the fields towards the country park, a very white-looking bird still with a small white patch on its tail, which it will grow out of.  Look for the "Lord Mayor's chain" brown collar on the breast, a feature all buzzards have.  Tawny owls from the Park have also been seen in these fields, by those up early enough to spot them!
13 June 2019 Saw a barn owl just before getting to the railway crossing.  That's the second one I have seen flying in broad daylight (this was about 5.00pm) in the last week.
17 March 2019 Yellowhammer flock at the top of Mill Lane by the barns, sitting along the hedge-tops.  About thirty of them, in bright new breeding plumage, golden heads sparkling like jewels in the sun.  They used to be very common farmland birds, but have become scarce in some places recently.  We are lucky to have them here, in such numbers.  Worth a ten-minute walk to see.
29 December 2018  Kingfisher seen flying over Fairham Brook at Bunny this morning - Lynda Osborne
21 December 2018  WInter thrushes - fieldfares and redwings - are taking advantage of the berries in the hedges down Moor Lane, particularly by Moor Waterings.
21 Oct 2018  Yellowhammers - now becoming scarce on farmland - are flourishing along the footpath from Flawforth Churchyard to Plumtree, look along the hedge-tops for them.
26 May 2018  A hobby flew along the A60 towards Bunny, disappeared into bushes and came out holding something - a small bird, a blue tit perhaps? - which it proceeded to hold in both feet and begin to peck at as it flew off towards Bunny Park.  A beautifully graceful, swift-like bird with a peregrine-style face, agility and a good turn of speed.  In previous years they have been known to nest in Bunny Park.
14 May 2018  The swifts are back!  Five of them swirling round the Spire this afternoon. Summer is here.
21st April 2018  A single swallow seen on the early Spring bird count, flying along Moor Lane towards the village.  25th April  two more, settled on the wires alongside the bus stop, look as if they're here to stay.
14th March 2018  Nice to see a kingfisher twice this week.  This time on Fareham Brook over the railway line as it flows towards Gotham.  Obviously made it through the winter.  I can't say if it is a different one to the one normally seen near the bridge up from Bunny.  
6 February 2018 The snow has brought a flurry of birds into the village gardens, including a smart male reed bunting with black cap, white collar and distinctive moustache, come in off the Moor.
3 January 2018 A strange goose has appeared on Ruddington Country Park lake - a grey goose with a buff chest, orange legs, a dark bown line down the bank of its neck and a black bill with a huge knob at the top, outlined in white.  This is a Chinese goose, a domesticated variant of the Chinese swan-goose, and must have escaped from a nearby collection.
1 January 2018 On the New Year's Day Walk Rob picked up a couple of "devil's toenails" in passing - fossilised oyster shells from about 175 million years ago, originally from the Derbyshire limestone and washed out at the end of the Ice Age by ice-melt then deposited here in the Trent flood plain.  Looking like small round stones, they are hollow underneath and when the mud was cleaned off we could see the annual ring-growth lines across the curved surface of the shell.
3 December 2017 Two sightings of kingfishers this week.  One was at Fareham Brook where he is regularly seen.  The other was on the stream on Bradmore Moor (about halfway between Bradmore and Bunny).  I am not sure if it is the same bird or if we have another one moved in.  I hope the latter as the flash of electric blue never fails to cheer.
14 November 2017  I went out to the "back-of-Bradmore" on a crisp frosty morning at first light to see the planets Venus and Jupiter rise in the south east, but in spite of a clear blue sky above, the horizon was veiled in a delicate pink, peach, orange layer of cloud.  I waited. A robin was first to call, followed by a muffled blackbird.  One or two rooks came over from Bunny Woods in the twilight to the telephone wires.  Then twenty.  Then thirty, and a few more stragglers, forming a solid black band, huddling shoulder to shoulder along the wires.  Behind me in the shelter of thick ivy on the trees a blue tit chirped, answered by another nearby.  A magpie silhouetted against the sky was recognised by its broad wings and long straight tail, the white splashes showing when it dropped down against the darker background of trees.
Time passed. Five rabbits came leaping and chasing down the field greeting the new day exuberantly before settling down to breakfast -  iced grass, today.  The bird-feeders in the hedge were suddenly busy with blue tits, great tits and a coal tit coming and going to the peanuts.  Further along a robin's red breast caught the early light – not sun-up, yet – and glowed, on top of his perching post. A loose group of gulls wandered across the sky and the rooks began to move off their wire.  Reflecting the brightness in the sky, their shiny backs and wings looked pure silver as they cruised down to the ground.  Perhaps still to early and cold for their breakfast to have emerged from the warmer earth, but they seemed happy enough to just mooch around for a bit.  Behind me an explosion of rattling sound, and I just caught a glimpse of a small round, brown ball moving extraordinarily quickly from one warm ivy shelter to another – a wren, indignant at finding an intruder outside its overnight roost.  A few pigeons crossed the sky purposefully, and the tits formed into a ragged queue for space on the feeder.  Sunrise was still 20 minutes away, but Bradmore's wild residents were already well into their daily routine.  I hadn't seen the two planets, but had seen so much more that I would otherwise have missed.  By the time I got home to a hot coffee my garden birds were forming their own impatient queue at the feeders too.
10 November 2017 Never seen this before.  Walking the dogs along the bridle way towards Syd's bench, I was surprised that a goldfinch did not fly off from a plant when the dogs went past.  Further inspection revealed that he was stuck by his foot on one of the teazles that proliferate down there.  A little nudge from me and he was free. Beautiful little bird with red on his head and yellow on the wings.
4 August 2017  A single swift seen over Bradmore village - is this the last one of this summer?  There may be more from further north, passing through, crossing Moor Lane. Goodbye, swifts, till next year. SC
1 August 2017 First my hedgehog who comes every night for his dinner.  I had a lazy afternoon sitting in my conservatory, and these birds visited: 2 blackbirds eating the Rowan berries, my regular 2 Magpies, 2 collared doves, 2 Pigeons and then two birds I didnt know, my book told me they were Stock doves, I have never seen them before, so it shows if one just sits and looks you see something new.  Jean P.
1 June 2017 on a gorgeous summer morning, walking down Moor Lane and seeing the traditional farmland birds - whitethroats, linnets, yellowhammers, skylarks, yellow wagtails - which are increasingly vanishing from the British countryside, but thanks to our local farmers we can still see them here, all visible from the public footpaths.  Coming home through a cloud of swifts flying low, so close at head height with an audible "whoosh" as they skimmed past.  SC
22 May 2017 A swarm of bees on the footpath just beyond the railway tunnel at Gotham.  Not sure my phone camera entirely captures it.
10 May 2017  A beautiful holly blue butterfly feating on the golden keria - my reward for putting up with pruning a prickly holly hedge! Orange-tip butterflies on the showy laburnum flowers, and a glorious day to be in the garden.  SC
A CUCKOO CALLS!  Kate Hunt of Bunny reports hearing a cuckoo while walking the mine road footpath towards Bunny Woods, at 6:30pm. The call went on for a few minutes, and the sound seemed to travel east to west, then faded away as though the bird was flying.  Five minutes later it was heard again, but less distinct.  (On a less cheerful note, Kate also reports seeing a young rabbit with myxomatosis.)
7 May 2017. The first swifts have arrived.  In a few days we shall see their aerial acrobatics over the village and hear the summer-scream as they swoop and dive around the old steeple.  They have had some difficult weather to contend with getting here this spring, and in roughly 12 weeks they will have raised their families and be setting off again on their epic flight.  Welcome Swifts and Summer!  CS
25 April 2017.The Breeding Bird Survey early count was done today between Bradmore and Bunny, on a lovely, bright, finger-tinglingly cold morning with a glorious golden sunrise.  The results were 27 species, 145 individual birds, during a 1½ hour count, slightly down in numbers on last year perhaps because it was so cold. Pairs of linnets, goldfinches, reed buntings and dunnocks were seen, and yellowhammers but these were outside the survey area so were not in the count.  Hunting buzzard and kestrel in the sky, and a sparrowhawk flying fast and low along the foot of a hedge.  Blackcaps and chiffchaffs singing among the trees, 6 skylarks high over the wheat, and song thrushes singing in both Bunny and Bradmore.  All seems well with our little patch of the world.   The next count will be around the end of May.  SBC
24 April 2017.  Our fields are alive with spring songs and out-flowering.  Yesterday evening a pair of song thrushes were in full flow with their inimitable lilting cadences.  Dunnocks, robins, blackbirds, blue tits, yellowhammers, chaffinches, collared doves, green woodpecker, wood pigeons, pheasant and partridge, and high above, a buzzard or two.  In the meadows, lanes and tracks, bright cowslips, sturdy white deadnettle, selfheal, buttercup, ground ivy and the sparkle of blue speedwell.
The crowning glory is the return of the swallow ... who can fail to be delighted by the sight each spring?  It has ever been so.  Aelian writing in about 200AD said "The swallow indicates that the best time of the year has come again.  And it is friendly to man, and likes to be under the same roof with him; arriving uninvited, and leaving when it feels the right moment has come.  We welcome the swallow according to Homer's rule of hospitality, which tells us to treat those who turn up at our houses kindly, and to give them a proper farewell when they wish to leave."  CS.
20 April 2017.  Bees swarming on Jean Pooley's front wall now have a new home in Annabel's hive - thanks for rescuing them, Annabel!
26 March 2017 A really long walk in the fields round Bunny and back in a great loop.  The larks were ascending, pouring forth their spring songs and everywhere life is bursting out ... blackthorn, hawthorn, oil seed blossom, violets, coltsfoot, white deadnettle, self-heal, daisies, speedwell ...  CS.
9th March 2017 A bit away from Bradmore but as a regular cyclist around Belvoir castle I invariably see the Red Kites that live round there.
Easily identifiable by the fan tail they are a spectacular sight for those who like their birds of prey.  I also saw a kingfisher flying out from the brook at Knipton. (Don't see one for ages then two in a week)
I commmented to my wife that it had seemed green until she reminded me that my cycling glasses have yellow lenses!
25 February 2017 Group of hares from my back garden on Far Street overlooking the fields to Ruddington. They were jumping, dancing and running - sometimes in circles having a great time. These fields are a popular place to spot hares.
16 February 2017 delighted to report a sighting of the kingfisher along Fairham Brook.  I haven't seen one there for a few years.  Never seen one perched just the tell-tale flash of electric blue as it flies along the stream. Also at the start of the same walk I saw the buzzard (usually seen circling above Plumtree Road) perched on the trees next to the bus stop.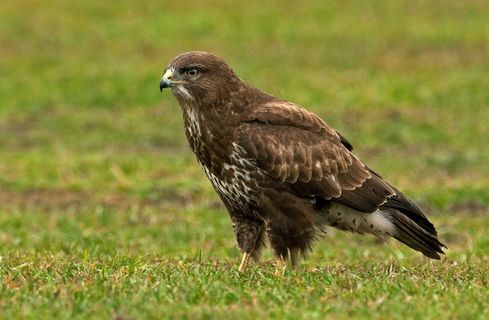 It then launched across Loughborough Road to catch a vole or mouse in the grass verge on the far side before flying off with it in its talons.  Impressive to concentrate on a small rodent on the far side of the main road there with all the cars going by!
10 Feb 2017 at about 07:00 I saw a Stoat approaching my back door, when it saw me looking through the window, it turned round and scurried round the corner of the house.  I do not recall having seen one in my garden before.  The end of its tail was black (as it should be!).  I know they are not very fat, but this one looked particularly thin, obviously looking for its breakfast. J Randall.
4 Feb 2017 - Another little egret in the cattle field opposite Wysall Lane Farm, further along the Fairham Brook.
24 Jan.2017 - Along Fairham Brook today, still no sign of the Kingfisher for me but I am walking with dogs so maybe that's causing this one to keep his distance.  The last few times I have been, there have been two robins perched on the riverbank foliage.  I assume they have just found a nice defensible territory there as I have never been aware of them as waterside birds in the past.
A few years ago (April 2013) I was lucky enough to spot some fox cubs down by Syd's bench.  I got some video with my phone which should be visible by clicking here.
12 Jan.2017 - Saw two foxes on the bridleway next to the village.  Common enough at dusk but unusual so close to the village in broad daylight.  There are now 4 Little Egrets
At Fairham Brook.  Don't know if the pair who have been there for a year have successfully bred or whether they have just been joined by another pair.
10 Jan.2017- Dawn reports that the kingfishers who did not appear at the Fairham Brook during the November village walk are still there, and can be seen by walkers approaching quietly - ie not in a large group!
29 Nov.2016 - 100+ fieldfares (large winter-visitor thrushes) sunning themselves in the trees at the foot of Moor Lane;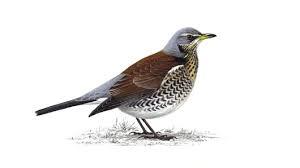 flying in a loose flock, calling "chack-chack" as they go over.
27 November 2016- goldcrest, gathering food along branches of Bramley apple tree.
21st November 2016 -  torrential rain brought a hen pheasant into a Main St garden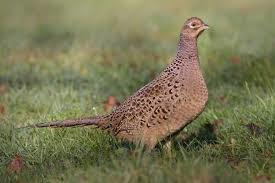 for shelter and bird food; she kept coming to the glass door and looking into the house, hoping for more, which of course she got.  Top class restaurant!
W/e 13 November 2016 - In Main Street, a great spotted woodpecker was seen working his way up a telegraph pole
and a jay and a bullfinch have visited one of the gardens at the top end of the street. A male sparrowhawk has been seen around the bottom end of Far Street recently, and this week spent 20 minutes sitting on a fence, briefly investigated a rustling in the undergrowth but flew off without catching anything.  (See December month's Bunny Bulletin)
Note: the pictures on this page are included to assist villagers in identifying wildlife and are not generally taken by residents.  For birds, in particular, the RSPB website is an invaluable source of information